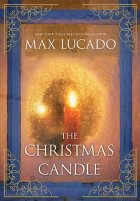 In the mid 1800's, the tiny town of Gladstone, England receives a heavenly visitor. That visitor leaves not only a miracle, but the gift of hope. In a new era, the tradition continues, but there are those who cannot quite believe, and among them, a young minister with a hidden past.
Max Lucado brings an engaging story that encompasses human nature, and questions of faith and the goodness of God. An old candle maker challenges the minister's faith, "The mystery of God unsettles us all, Reverend. But isn't mystery where God works? If he does only what we understand, is he God?" (p. 144)
Indeed, all humanity struggles to explain the works of God. But what we seek to comprehend, we also minimize. Some things have to be accepted by faith. The candle maker and his wife seem to hold the town's future in their hands, as each wait expectantly for their own miracle. When the needs are acute, are they beyond God's ability to meet?
The Christmas Candle is a sweet story of renewal found in forgiveness. Lucado finds a way to develop characters in short time, and creates a sense of familiarity within the small country parish. I look forward to reading it again, every Christmas!
Sally
See other reviews of this book
Disclosure of Material Connection: I received this book free from the publisher through the BookSneeze.com® book review bloggers program. I was not required to write a positive review. The opinions I have expressed are my own. I am disclosing this in accordance with the Federal Trade Commission's 16 CFR, Part 255 : "Guides Concerning the Use of Endorsements and Testimonials in Advertising."
Related Posts: