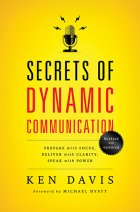 Looking for the secret to a power-packed speech? Secrets of Dynamic Communication provides a formula to make every presentation successful. Anyone who seeks "to instruct, encourage, motivate, or call an audience to action" (p. 20) will benefit from the tools provided within its pages. That includes high school teachers, Sunday School teachers, and every kind of teacher in-between. The author, Ken Davis, goes into great detail to spell out the difference between an average talk and a memorable one. He uses 40 years of experience to analyze the nuts and bolts of a great speech, and to equip others to evaluate their own presentations.
As a speaker, I have sought out many books on the art of developing an address, and put many of the tips gleaned therein to the test. This book is very user-friendly in breaking down the format into easy-to-remember steps, acrostics and examples that clarify instructions. Chapter Reviews reinforce material covered, and the Appendix gives a springboard for talks by listing examples, key words and topical indexes. The real genius of the book, however, is in the spreadsheet for SCORRE, the acronym for Davis' formula and conference of the same name. Just two weeks ago, it provided a map, when I had the honor of speaking at a close friend's funeral. It was a time when every word counted, and had to be just right. Thank you Ken Davis, for equipping me to focus on the objective. As he says, "Diligence in preparation results in excellence on the platform." (p. 29) (Click to tweet)
This book is a valuable resource for anyone who wants to impact others. Get your own copy, if you want the SCORRE formula!
Sally
Disclosure of Material Connection: I received this book free from the publisher through the BookSneeze.com® book review bloggers program. I was not required to write a positive review. The opinions I have expressed are my own. I am disclosing this in accordance with the Federal Trade Commission's 16 CFR, Part 255 : "Guides Concerning the Use of Endorsements and Testimonials in Advertising."
Find more reviews of this book here.
Get your own copy here.
Related Posts: