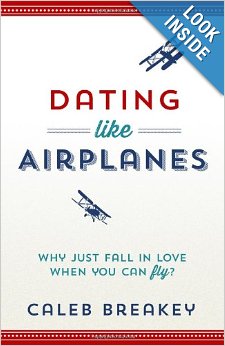 What does it mean to fly? Former journalist and speaker, Caleb Breakey says, "It's simply practicing true love – Jesus love – in your relationship." (p. 167) He says "falling in love" is a matter of pursuing your wants. But "flying in love" is the way to give unselfishly to another.
Dating Like Airplanes is not another dating manual, it is a call to relationship with Christ first, and then relationship with each other. Rightly so, Breakey challenges readers to raise the bar of expectation for your own relationship with the Lord, before you can have anything to offer to your significant other.
Tackling issues of sexual boundaries, Breakey says we are built with internal alarms, or cues, that sound off when we're on dangerous turf. When we respond to those cues, we get God's best for the relationship, and Breakey gives some of the best explanations that I've read, of how we benefit.
Dating Like Airplanes provides great tools for getting to know one another. What are your interests? How will you pursue your goals? What values determine your lifestyle? How will you handle differences of opinion? How will you handle frustration with your other? How will you combine two different viewpoints, ideas and lifestyles?
Truly, Dating Like Airplanes could well have been named, A Manual for Relationships, because it relates on so many levels to the intricacies of doing life with others. I have been married 27 years, and found many truths in this book to apply to the way I interact with my spouse. As Breakey says, it's never too late. Your past makes you more prepared to be used for God.
Don't wait until you're enmeshed in a relationship to get this book. "Today is the day to rise to a love that's greater than yourself." (p. 7) Order a copy of Dating Like Airplanes; it's an excellent resource for every relationship!
Sally
Disclaimer: I received an Advance Reader's Copy from the author in exchange for a fair and honest review.
Related Posts:
What is the kind of love that God honors?