Where do you go when snow has claimed your driveway? We head south, and for a repeat visit, we chose Mango Inn!
Mango Inn is synonymous with "oasis." Its' gardens have the musical sounds of water fountains in the courtyard and birds announcing their visit. The foliage includes star fruit, palms and a hedge of privacy that is lush and soothing. Whether you rest in the hammock or lounge by the pool, it's hard to believe you're in the heart of downtown Lake Worth.
Local beaches are just minutes away, with salt water, sand and sunshine galore. We also ventured out to the Flagler Museum to learn about the pioneer to modern tourism in Florida State.
Innkeepers Deb & Judi provide southern hospitality with their friendliness and homemade goodness: cookies in the afternoon and a warm breakfast to start your day. Furnished in the tropics theme, the rooms are cheerfully appointed and cozy. Why not try the Sea Grape Room for your next getaway?
After seeing the picture of our breakfast, my friend asked for the recipe. Yes, it was as delicious as it looked!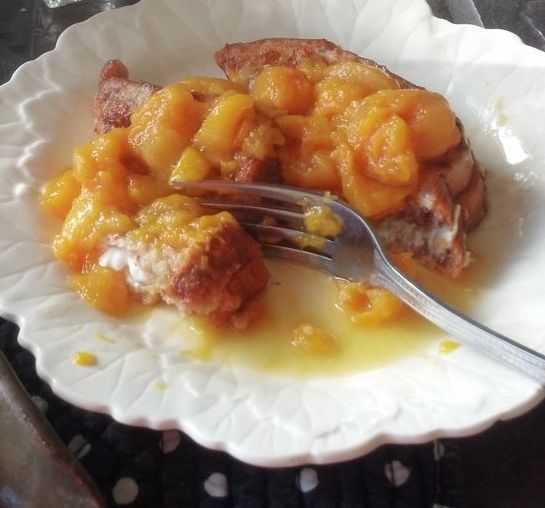 Mango Stuffed French Toast
Pepperidge Farm Cinnamon Bread (no raisins) - 2 slices per person
Cream Cheese (amount depends on number of servings), softened
4 eggs
¾ cup milk
Butter
Mangos (they must be very ripe or frozen, which works best)
Spread one side of each slice of bread with cream cheese. Put together as if making a sandwich, with cream cheese sides folded together. Cut sandwich on the diagonal. Scramble eggs with milk. Dip each side of bread in egg mixture. Melt butter in frying pan, sauté sandwich until browned.
Fruit compote:
Heat thawed out mangoes. If you want to thin it a bit, you can add orange juice. Any fruit that is frozen can work.
Enjoy a taste of sunshine!
Sally
Related Posts: