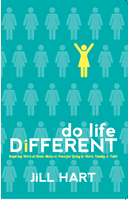 Do Life Different by Jill Hart
Reviewed by Sally Ferguson
Radiant Lit Blog Tours
Genre: Devotional
Publisher: Choose Now Publishing
Pub Date: February 2, 2014
(Synopsis from Amazon.com) Work-at-home moms bear a unique set of burdens as they attempt to blend job and family commitments under one roof. Maintaining professionalism while wiping noses and convincing outsiders that flexibility isn't all it's cracked up to be can put even the most organized to the test. Amid all the other duties of life, the work-at-home mom often discovers that feeding her soul is the biggest challenge of them all. Work-at-home mom: take a deep breath and Do Life Different as you allow these devotions for work-at-home moms to fill the vacuum of your needy heart in the chaos of your busy world.
Jill Hart's book, Do Life Different, has refreshing advice about success: use your business to help people! She brings pointers to the business world from, as she calls it, God's upside-down perspective. She affirms, when you serve others and express gratitude to God by being generous with them, God will provide for your needs.
The chapters are divided into scripture and daily thought starters, with space for journaling. The questions range from listing out the day's goals, to motives behind our own baggage. The author is vulnerable with her struggles in building a home-based business, and challenges the reader to dig under the surface to face difficult issues. When you ask the hard questions and make yourself accountable for the next step, your success will come. But, it's no easy formula; Jill's key is perseverance, determination and communication. (Click to Tweet)
Personal reflection, leadership tips and supplemental video links all combine to make this book a winner. Get your own copy and learn about building a business, from God's point of view!
Sally
Do Life Different is available to purchase from Amazon.com.
Note: I received this book as part of the Do Life Different blog tour from Radiant Lit. I received no compensation for this review and only received a copy of the book for review purposes. Review copy provided by the publisher.
Related Posts: