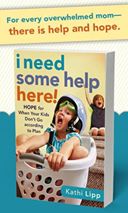 We try to do everything right as parents, and then find out we still miss the bull's-eye. But author Kathi Lipp says there are gifts to be found, when we're in the dark days of parenting. Gifts? Like me, you may find that to be an incredulous idea when you're in the midst of another child-rearing crisis. But Kathi reminds us to hold on and look for the priceless treasures along the way.
Those treasures may come in the form of a group of supportive moms who can relate to where you're at, or in a new perspective on the important things of life, when your child doesn't arrive in the package you had hoped for. Kathi relates stories of moms who struggle to find the perfect formula for raising kids, and instead find the God of perfect grace. And she reminds us, "When you are brokenhearted, you are broken open for other people to see into you and see what they need. When you are broken hearted, God can do so much more with you than with the one who thinks they have this whole parenting thing down. You are teachable. You are humbled. You are attentive to the workings of God in your life and the lives of your kids.
And this, my friend, is a priceless gift." (p. 26)
Kathi's book is a priceless gift, where she uses Scripture to reignite hope in this mom's heart and provides examples of prayers that have calmed her own anxiety in the turmoil of raising four in a blended family. Haven't I wanted to protect my kids from bad days? Kathi reminds me that God is their provider. God wants to provide for my kids in more ways than I can imagine, and when I step out of His way, He can grow them into the adults He wants them to be. That means I have to let go of control and choose instead to be "a strong advocate, a prayer warrior, an encourager, a hoper."
Kathi has met her goal of letting me know that I am not alone. She has provided not just a parenting manual, but stories from the trenches of life and practical steps to turn my desperation back to inspiration from the heart of God. That puts me, and my kids, in the best possible place we can be: in the hands of God!
Disclosure of Material: I received this book free from the publisher for the I Need Some Help Here! Blog Tour. The opinions I have expressed are my own. I am disclosing this in accordance with the Federal Trade Commission's CFR Title 16, Part 255: "Guides Concerning the Use of Endorsements and Testimonials in Advertising."
Sally
Related Posts:
Am I the only Mom to cry during Toy Story 3? http://sallyswords.braveblog.com/entry/49909
Is your child a follower or a leader? http://sallyswords.braveblog.com/entry/36926
Fundraisers, Concerts and The Lawn Social http://sallyswords.braveblog.com/entry/31482
To purchase on Amazon: http://www.amazon.com/Need-Some-Help-Here-according/dp/0800720784