I am a bad mom.
There. I've said it. I've laid it all on the table.
I have two adult children and I still try to make life all better for them.
Wasn't I supposed to let go of that role when they were in elementary school? I bandaged the cuts and brushed off their knees, with a kiss to make it all better.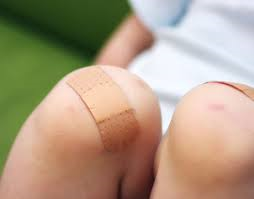 When did I adopt the role that said, "I have to keep everyone happy"? I scurry around trying to be the peace-maker and hand-holder and all of that scurrying leaves me empty and scarred. As moms, do we enable our kids to grow, when we are the go-to person in their lives? Where is the fine line between being an enabler and being a springboard to launch them into adulthood? In their book, The Cure for the "Perfect" Life, Kathi Lipp and Cheri Gregory point out that "we live with the illusion that we have some measure of control over how other people behave. We're like a three-year-old kid strapped into his car seat and using his Fisher-Price steering wheel, absolutely certain that he's the one driving the car.
It's crazy feeling that we have all the responsibility for other people's lives, with none of the authority to make a difference." (p. 171)
I gave up that authority with each birthday we celebrated. My children entered the pre-teen years with an earnest desire to make their own decisions. They went through the teens with independence as their motto. Letting go actually began the day I gave birth and gave them opportunity to breathe on their own. Why then, do I strive to take back control and seek to guide them still? Isn't that something I label creatively as nurturing? When I hide my controlling tendencies in nice sounding terms, it makes me sound like a "good" mom. Yet, my whole job description as a parent is to prepare my kids to make their own decisions. (Tweet this!) And that cannot happen when I second-guess their judgment. Is there a better way for me to show them love? Lipp & Gregory say, "there is a love that goes deeper than hurting when others hurt- it's the kind of love that allows those we love to be in pain so they can become the kind of people God has designed them to be." (p. 175)
Now, I am the last person to want to leave someone else in pain. I am a people-pleaser with a capital P. But if I understand that I am not to rescue others from their problems, maybe I will embrace their journey to the Throne of Mercy by getting out of the way. (Tweet this!) And that is the best way to be an enabler.
I don't have this all figured out. I'm sure I will regress and fall back into patterns of habit that are within my comfort zone. So here are two questions I will ask:
"1. Is this the best solution for them?
  2. Is this the best solution for me?" (The Cure for the "Perfect" Life, p. 178)
Lipp & Gregory explain, one way to advocate healthy self-care is to tell myself, disappointment isn't deadly. When I release my kids to experience pain, they are empowered to reach out to God as their own Rescuer.
Here is my question for you: 
How have you learned to release your adult children to the consequences of their own choices?
Sally
Related Posts:
8 Ways to Increase Mom-Time!  http://6497855.bravejournal.com/entry/37613
The Love of a Parent  http://6497855.bravejournal.com/entry/21459
Praying for our Children   http://6497855.bravejournal.com/entry/23375
Link to:   The Cure for the "Perfect" Life   http://6497855.bravejournal.com/entry/141213
I Need Some Help Here! Blog Tour   http://sallyswords.braveblog.com/entry/140739
https://twitter.com/intent/tweet?text=My job as a parent is to prepare my kids to make their own decisions.@SallyJFerguson http://sallyswords.braveblog.com/entry/141327
https://twitter.com/intent/tweet?text=If I do not rescue others from their problems, I embrace their journey to the Throne of Mercy by getting out of the way.@SallyJFerguson http://sallyswords.braveblog.com/entry/141327
     Welcome to Momhood
Scrolling="no" frameborder="0"
Style="border:none; width:450px; height: 80px">